Outdoor Living Areas Malibu, CA
If there is one company in California that you can trust for your outdoor improvement project, it would be us at Epik Masonry & Concrete, Inc. We have more than two decades of experience in the field of masonry and concrete works, landscape design and installation, and home improvement and construction. This length of experience is our assurance to you that we can provide you with excellent service regardless of the project's scope and complexity.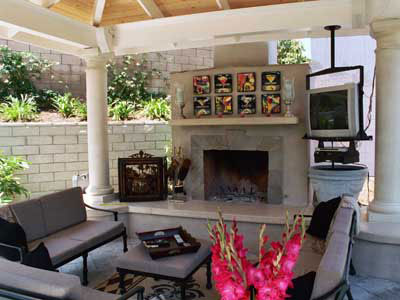 You can hire us to work on various landscape amenities and other outdoor features such as outdoor living areas. You don't have to worry if you're from Malibu, Ventura, or Thousand Oaks since we serve these areas. Please contact us today so we can help you realize your dream outdoor space.


We Build Functional Outdoor Living Spaces
At Epik Masonry & Concrete, Inc., we have dedicated personnel who are all experienced in designing and building outdoor living areas. Most of their creations are now being enjoyed by countless property owners in Malibu, CA and other areas we serve. These successful projects were the results of their professionalism and great workmanship for every project that they work on.

We are also known in California for our ability to create functional outdoor living areas. We are able to do this by listening to our clients' ideas and ensuring that their desired functionalities are included in the design plan.


Our Recommended Outdoor Living Areas
We can design and build various outdoor living spaces in your property. But before we recommend one, we first assess your property to determine its needs. We take note of the existing features, the size of the area, the theme or design, and other important factors to help our design team come up with a sound proposal.

Meanwhile, the outdoor living areas that we usually recommend include the following:


Patio. A patio is a great outdoor addition because of its provided benefits to homeowners. This space can be the perfect area for rest and relaxation after a tiring day at work or if you just want to spend some quiet time while enjoying the charm and beauty of your landscape. We have already built numerous patios for our Malibu clients, so we can also build one that will meet your design requirements.


Outdoor kitchen. If you love to cook and dine alfresco, then an outdoor kitchen is the perfect feature for you. We can provide you with portable grills or have us design and build a fully furnished kitchen with all the amenities that you desire. We can add rotisseries, heavy-duty grills, refrigerator, mini-bar, tables and chairs, and even entertainment systems.


Deck. This area provides more space for outdoor activities and fun. We can turn your pool area into a perfect place for weekend parties or family bonding by improving the functionality of your pool deck. We can also build a viewing deck or make major improvements on this area by adding new amenities.


Hire California's Outdoor Living Specialists
By hiring outdoor living specialists like us at Epik Masonry & Concrete, Inc., you will be assured of outdoor spaces that will satisfy your comfort needs and preferences. You are also guaranteed of stunningly designed and durably built outdoor living areas, courtesy of our creative designers and expert builders.

Call us today at 805-746-0683, or drop by at our office during your most convenient time to discuss with us your plans and ideas. We will help you achieve your dream outdoors by creating new outdoor living areas in your property.